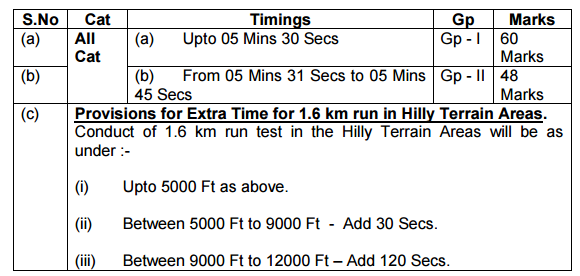 Indian Army GD 1600m Running Test:
For the youngsters applying for Indian Army GD Bharti this year, we took the initiative of bringing some major tips. Every few months, Indian Army organise Bharti Rallies for candidates who are looking to be a part of Indian Army and conduct Physical Test to selected only the fittest of the available who can go through the tough Army Training and be ready to face enemies across the Borders 24×7.
1600m Running Test in Army Soldier Physical Test: The Biggest Hurdle
The fear of most candidates the very first Test that is conducted in Bharti Rally.

Indian Army GD 1600m Running Test

Candidates practice months and years to get perfect in the Run.
Every practice gets to an end when hundreds of aspirants run together on the soil.
Even some get wounded during this Test, especially first-timers, only because they never have been in the situation where people are so filled with great energy to get selected and get a job in Indian Army.
It is not your normal 1-mile racing.
You compete with hundred others who are ready to push, pull and what not, to get ahead in the race.
You will have to endure pain in every joint of your body to nail this race.
Only months of disciplined practice will allow you to get it done amidst of the thousands of others that are trying to outrace you every second until the race goes.
Indian Army GD 1600m Running Complete the Race in 5Min 30 Seconds
Indian Army GD 1600m Running Test
If you thinks that you have practiced enough to complete the race in 5 min 30 seconds mark, then think again.
The Time taken to complete in the actual race never matches with your time when you have practiced alone.
There are great runners who looks so thin and weak but it is there hardcore practice that get them selected in the Army Bharti Race.
Here, I am sharing with you a Daily Routine Time Table that can get you in the first finishers of the 1.6 km run and all other Physical Test that are carried by Indian Army.
In this table, your whole day's work and practice is given.
Remember, there is no need to push hard at starting.
Go slow and give yourself some time before you get into the whole routine.
How I cleared The Indian Army GD 1600m Running Test
Indian Army GD 1600m Running Test

The first thing that you will have to keep in mind is that you will not be alone in the army recruitment rally.
so whatever preparation you do, you will be able to do half of that preparation on the rally day.
So if you have prepared only for 1600 m race, then understand that you will be able to participate in the recruitment rally only 800 m.
I am saying this because there is a lot of difference between running with 100 people and running alone.
On the day of the rally, the speed ahead of you determines your escape.
If you want to come in group 1 in 1600 m race, then you should have practice of running at least 4000m. Now even if you ran 4000 m, then you also have to take care of time limit.
Indian Army GD 1600m Running Test Time Limit :
In the rally you only get 5 min 20 sec to run 1600 m.
So if you have to beat the time too, then everyday practice is important and this is the Gurumantra that can get you get selected in Indian Army in the first time.
Remember that Endurance is not a kind of thing that can be exceled in a day or two.
It requires regularity and devotion to build that kind of stamina as a soldier.
Apart from this, you have to take special care of some things.
Discipline is most important for a military. Whether you are military or preparing to enter the army, discipline should be the highest for you.
If you have to get up at 4 am to go for a run, then no Sunday or cold or heat can break this discipline. If you succeed in doing this then nothing can stop you from becoming a military.
Indian Army GD 1600m Running Test : Follow this Daily Time Table to Clear Army GD Physical Test
Indian Army GD 1600m Running Test Activity
Time Table
Morning Routine
Wake up
4:00 am sharp
Running
1 hour
Exercise
(Pull-ups, long jump, push-ups)
1 hour
Meditation
30 minutes
Breakfast
Light
Evening Routine
Running
1 hour
Exercise (Pull-ups, ball throw, stretching )
1 hour
Healthy Snacks
( Vegetables Juice, fresh fruits)
Dinner
8 pm
Sleep
10 pm
Indian Army GD 1600m Running Test
Indian Army GD 1600m Running Test
1. Regularity
Regularity is the main ingredient of success in anything in the world.
1 Mile doesn't sound so much but doing so in your best time and with immense competition is the totally different thing.
Maintain regularity from at least 3 months before the rally.
Try to run 2 miles in the morning and evening every day without an excuse.
Running will puff up your lungs for more oxygen thus increase your stamina multiple times.
Tip 1: While running, try to breathe through your nose instead of your mouth even if you eventually get tired at some point, keep breathing from your nose, it will definitely increase your stamina.
2. Drink Water Carefully
Our body is made up of more than 70% of water. What does that teach us? Water is great for us. Drink as much water as you can throughout the day.
Avoid drinking too much at a single time.
Drink plenty of water 15-20 minutes before you run.
Avoid drinking or drink a very short amount of water while you are running.
Drink Water after some time of running.
3. Eat Healthy
You should always eat healthy even if you are not trying out for the army.
But if you are preparing for the army, then it's a must
Eat fruits and vegetables with lots of vitamins and minerals
Like banana and apples before you run will keep your body going.
Try Running on Smooth Surface
Running on roads may lead to suffocating
It can also lead to unwanted pain in your ankles
And subsequently, decrease in your stamina rather than increasing it.
That is why try running on smooth surfaces like a ground or a field.
5. Stretching and Strength Exercises
Running is not the only exercise in the Indian Army GD tryouts, you will have to nail the other 3 test as well. So, after you are done running,
Do stretching exercises and strength exercises
For e.g. like pull-ups, chin-ups, dibs, push-ups and others.
It will open up your muscles and make you more flexible and less prone to fatigue
Also, try long jumping, at least try to jump as long as 9 to 10 meters.
6. Be Disciplined
You have to be disciplined for the rest of your life if you join the army. And the truth is it will also help you to get recruited
Be precise about everything, from your sleep to your food habits.
Don't eat oily and junk food, it will only make things worse for you
Always eat green vegetables and fruits as they have rich oxygen consumption.
Tip 2: At the end, all that matters is speed and stamina with a pinch of strength.
If you have any query or if you just want to ask something, hit us on the comments box and we will get back to you as soon as possible.