Indian Army Running Time 1600 Meter
Candidates in the recruitment rally are first called for the physical proficiency test. In which candidates have to complete the 1.6 km race in 5 minutes 30 seconds. The successful candidates also have to go through balancing, 10 pullups and 9 feet long jump.
Army Running Time 1600 Meter
| Timing | Marks |
| --- | --- |
| 5 Minutes 30 Seconds | 60 |
| 5 Min 31 Sec to 45 Sec | 48 |
| 5 Minutes 46 Seconds or more | Fail |
Indian Army Running Time 1600 Meter
You will get 5 minutes and 45 seconds to cover 1600 M, one second more and you fail.
Boys completing the run in 5 minutes 30-45 seconds are taken in Group 2 and allotted 48 marks.
For those who complete it in 5 minutes and 30 seconds or less, are taken in Group 1 and allotted 60 marks.
Running Daily: Indian Army Running Time 1600 Meter
Running daily with some upper body strengthening will be more than enough. Rest everything Army will take care.
Indian Army 1600 Meter Race

Don't screw your legs, they will carry you through (in addition to your ba*ls).
Warming up & cooling down are as important as exercising.
Don't make up things in your mind, take on things as they come and do not be perturbed.
Should have an open mind and basic physical fitness.
Even if you are good in running but a bit fat when you join, instructors and seniors at the academy will take care of you and mould you into a physically fit chap, it will be a shade harder though.
Don't ask questions on Quora and approach any army chap, nobody will rebuke you. We are too friendly for that.
Make Stamina for 1600 Meter Race in The Army
The basic principle for increasing your stamina is progressive overload
Start by running a distance your comfortable with and can run easily
Soon start increasing the distance until you're comfortable with the new distance
Example: If you were running 1000 m easily then try 1200 m once you do 1200 m easily increase the distance until you reach your goal
Indian Army Running Time 1600 Meter The Biggest Mistake
Aspirants preparing for this test run for hours trying to increase their stamina.
This is an absolute waste of time. There is a simple principle called 'specificity' in exercise science- if you want to get good at 'something' like long jump, do that 'thing' instead of ballet dancing.
Passing a 1600 meter run in minimum time is not merely about stamina, it also requires speed and strength. Thus, you need to train accordingly and enhance all those three capabilities.
Army 1600 Meter Running Time
Measure 400M distance and cover its 4 rounds with minimum time.
If on the first day it takes you 7 minutes to cover this distance, aim for 6 minutes and 45 seconds the next day and gradually, come down to 5 minutes and 30 seconds and under.
Army Running Time 1600:100 M Sprints Maximum Laps
Measure 100M distance and sprint as fast as possible.
Then walk back slowly, settling your breath and sprint again.
Repeat this continuously for 10 minutes.
Your goal should be to cover maximum laps in 10 minutes.
If on the first day you could do 5 laps in 10 minutes, aim for 6 the next time.
Try beating your previous best with each training session.
Full Body High-Intensity Training
This workout is for strengthening your muscles to run 1600 M as fast as possible.
Start with 10 Burpees, followed by 10 Jump Squats, followed by 10 Box Jumps and at last, 10 Body Weight Lunges (each leg). Rest 5 minutes after this and repeat this cycles four more times.
Needless to say, you are not supposed to perform all these workouts in one day itself, as it will simply burn you out. Here is how you have to arrange your training.
Army Running Time 1600 Day Wise :
Day 1 Run 1600 M in minimum time
Day 2 Run 100 M sprints maximum laps
Day 3 Rest
Day 4 Run 1600 M in minimum time
Day 5 Full body high-intensity training
Day 6 Rest
Day 7 Repeat Cycle
Important:
Rest is a crucial part of this training for boosting recovery.
Perform all workouts only once per day for the initial four weeks.
From the fifth week onwards, perform all workouts twice per day (morning & evening).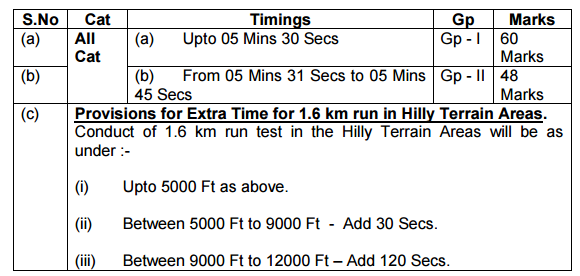 Join a group who are preparing for the same
Start practicing in morning as well as evenings
Indian Army Running In the Morning session

First warm up your body by running 1.5–2 Km then start a pace run like 5 Km in 20–21 min.
Then do sprintings like 2×400m , 3×200m and 4×100m
Then do proper stretching of body , you can do it with your friend who runs with you.
Indian Army Running In the evening session

Just go for a easy run at walking pace 3–4 km, and do stretching.
In a week do these sessions for three days and for other three days go for long pace runs of 5 Km this will increase your stamina.
Go for a 1600m run with time approx 6–6:30 min for first 15 days and 5:40–6 min in last week.
And on seventh day take full rest don't run and do only exercise if legs pain much, you can use ice cubes for relief in your calf muscle.
Stop practicing 4 days before the run.
Just don't give up, be with the group and always keep save a 100m sprint stamina in you it will help you in last 100m.
Indian Army Running Time 1600 Meter & Running Tips 2022 Running Chart
| | | | |
| --- | --- | --- | --- |
| Duration | Running = Time | Push up | Sprints |
| 1week | 1.5Km | 15 | 100meter |
| 2week | 2Km | 30 | 100meter 2 Time |
| 3week | 3Km | 50 | 200meter |
| 4week | 4Km | 50 | 200meter 2 Time |
| 5week | 5Km = 24 Minutes | 50 | 200meter 2 Time |
| 6week | 5Km = 21 Minutes | 50 | 200meter 2 Time |
| 7week | 4Km = 16 Minutes | 60 | 200meter 2 Time |
| 8week | 3Km = 13 Minutes | 60 | 200meter 2 Time |
| 9week | 2.5Km = 10 Minutes | 60 | 200meter 2 Time |
| 10week | 2.5Km = 8 Minutes | 70 | 200meter 2 Time |
| 11week | 2Km = 7 Minutes | 80 | 200meter 2 Time |
| 12week | 1600m = 5 Minutes | 100 | 200meter 2 Time |
Army 1600 Meter Running Time Table